Welcome to Isla de Flores a Most Wonderful Little Town: The Journey Part 4
Oh Guatemala, I noticed you the minute I crossed your magnificent border.
I was ready to leave Belize City especially after another fiasco with buses. I purchased my ticket at the hotel and the lady told me where the bus was going to pick up. I went early to find it but could not locate the terminal. I asked around and went to the water taxi terminal and they told me that the bus stopped further away in town.
I went back to the hotel and asked the lady again where the bus terminal is located. She tells me "it is in the water taxi terminal." I informed her that I had been there and asked around. I told her that they told me it was further into town. She decided to call and of course the main bus terminal in Belize City which was indeed further away.
The problem was that the bus was arriving and would be departing in 15 minutes. So, I had to run to my room, finish packing everything up, and haul ass to find a taxi.
As we crossed the border from Belize into Guatemala, it was quite intimidating with the soldiers standing guard at the border with their AK-47s. Although there are armed guards, the policies are more relaxed. They didn't search through bags, didn't ask any questions, or make us pay any fees. All that was necessary was to walk up to the counter, hand my passport, they looked at the picture and then me. The man behind the counter stamped my passport and said, "Welcome to Guatemala."
The landscape is so different in Guatemala and you can see the change almost immediately after crossing the border. The landscape becomes more lush and green. The small hills quickly turn to mountains. It is just beautiful.
You can immediately see the difference in the landscape. I was so happy to finally be in Guatemala. You see, Guatemala was the country that made me want to travel through Central America. It was the gem of the region, or at least I was hoping!
I arrived after dark in Flores, Guatemala and I was unable to really see anything. I was dropped off at the bus company and they recommended a hostel across the street. I went inside and made arrangements to stay 1 night there. Once I hauled everything up to my room I began my normal unpacking process. This includes charging all of my electronics right away if they need it.
As I was unpacking and charging, I immediately noticed that there was no WiFi. There was WiFi available in the restaurant is what I was told. This was not really acceptable for my needs. I decided to unpack lightly and just get out what I needed for the night. The room only had one tiny lightbulb that must have been about 40 watts. I am not sure this bulb would have lit my entire backpack but I made due with what I had.
I usually take a shower after a long day of traveling on dirty buses that hundreds of people have touched and/or wiped their boogers or whatever all over. The thought is actually pretty damn gross. That's right, they don't get cleaned from day to day, just swept and garbage hauled out. Keep this in mind when traveling by bus next time and keep hand sanitizer readily available!
This hostel claimed they had hot water for my shower. This water may have been warm at one time or may be warm in the north pole, but it was clearly not warm. I am not above taking a cold shower and I have done so on more than one occasion but to claim you have something you do not and I paying for it, well, that is different. I took a cold shower anyway.
After my shower, I normally try to find some food and something to drink. I also make sure to find some water to keep in my room. I wandered down to the restaurant which was empty except for a guy behind the bar. I asked if they were open and he said they were open and asked if I needed a menu. I ordered a beer and a burrito.
The burrito came about 25 minutes later and it was horrible. It was so bad that I only ate about half of it. How do you mess up a burrito? Well, you fill it full of junk and put some crappy meat in it and serve it on a stale store-bought tortilla. It was a little bit a food and after eating what I could stomach, I stopped and just drank my beer.
The beer is the local beer of Guatemala called Gallo. Gallo is a very good beer and I actually liked it quite a lot. I had another, and maybe another...maybe.
The next morning I went to search for better accommodations and ran into one of the guys from the PAUSE Hostel in Chetumal. (I still cannot pronounce his name). He was sitting in the lobby of the Green World Hotel. I asked him if it was nice and he said that it was nice. I asked him about the WiFi and he said, "The WiFi is pretty good here."
I paid for a room for a few days and then I went back tot he other place and checked out. Once in my room, I was happy that it was clean, well lit, and had a nice breeze blowing through it. The shower had hot water for a shower and the WiFi was acceptable. This allowed me to get out and start exploring Flores Island. Flores is divided into two parts. The nice part is located on an Island in the middle of Lago Peten Itza. The part outside of the island is split between Flores and San Benito. There is a mall, a burger king, and few other undesirable places across the bridge in Flores.
Walking around the entire perimeter of the island only took about 30 minutes. The island is circular and is raised in the middle where the local church and park are located. It is a beautiful place. From the park, you can see across the lake and at night the lights are magnificent. There are local food vendor booths around the park and also a basketball court.
During lunchtime and the evenings, the locals gather here for community time. They spend time sitting in the gardens of the park. Lovers hold each other as they sit on the steps overlooking the night lights across the lake. It is very romantic here in the evening.
Teenagers pile into the basketball court to play a game of 5 on 5. The atmosphere is very welcoming and communal. There is a sense of belonging for everyone in Flores. They are proud of their town and their community.
Everyone in Flores was extremely friendly. The restaurants were great. I had some excellent pizza on more than one visit to Maple y Tocino which happened to be my favorite place to eat. The food was excellent and the view was just as nice! If you ever go, make sure to try their BBQ Chicken pizza!
The atmosphere in Flores is very laid back. It is easy to spend a lot of time doing nothing here but wandering around the island and meeting the locals. I actually extended my stay for a few days longer than I had originally planned because I loved it so much.
I love the architecture of Flores. The old tin roofs are all rusted and along with the red paint in places makes this little town glow! The colors of all the buildings are cheerful and bright which contrast with the old stone streets to gives it a very old world feel.
The tuk-tuks are straight up crazy here. They fly up and down the streets. The pass wherever and whenever they can. Many are cobbled together with wire and tape. The wheels are cocked because of bad bearings and they often have semi-flat tires. Sketchy at best. So it is best to not look them over too much before getting inside. Just pray and hop in for the ride of your life. The stone streets make for an extremely bumpy ride, so hold on for your life!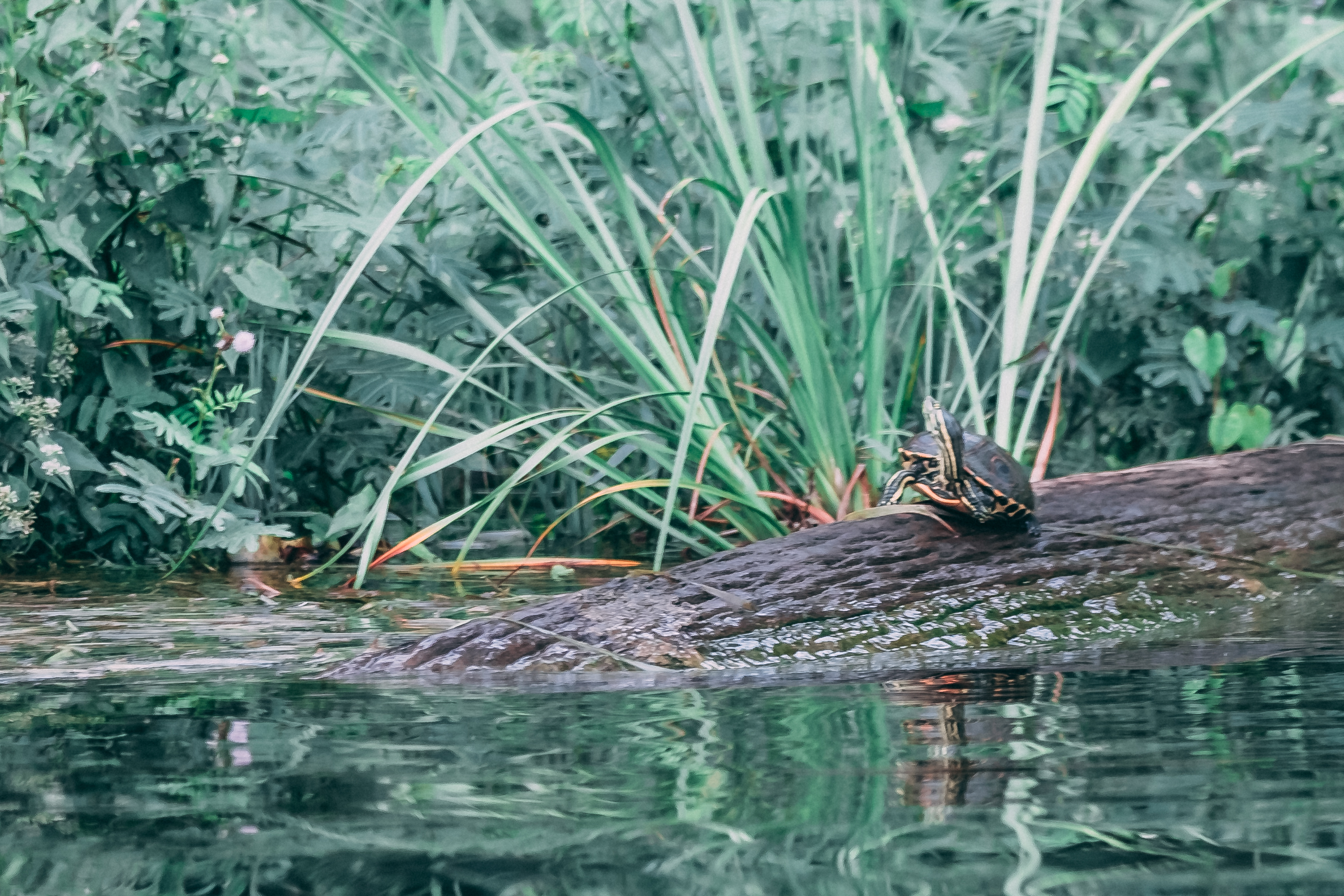 El Mirador is a location across the lake where you can hike up a hill and a couple of flights of stairs to a treehouse. This treehouse is built on top of a hill and allows for a view of the entire island of Flores. From the treehouse, you can also see the majority of the lake and some of the outlying communities surrounding the lake.
The Stone Horse is a local attraction for tourists. There is a Mayan legend inscribed on the bottom of the horse. The legend is that the Mayans fled from their original home of Chichen Itza and went to live at Lago Peten Itza. In 1541 Cortes arrived and his supplies were completely decimated so he left but he left behind one sick horse. Since the Mayans had never seen horses and didn't know how to care for it, the horse died. The significance is that this was truly the first horse in the area and from what I was told while in Flores, the horse was buried in the lake.
I found Flores to be a most wonderful little town in Guatemala. I liked it here very much. I could have stayed longer and would love to go back someday. I stayed for 6 days and had a great time but I knew I had to move on if I wanted to see more of Guatemala.
I scheduled a bus to take me to Semuc Champey, a national monument of Guatemala. So until my next blog post where I talk about my trip to Tikal, which happened while I stayed in Flores, get out and travel friends!