Welcome to Mexico: The Journey Part 1
I left my last life. It is gone. It is no more. I cannot go back to be who I was before. I am on a path to becoming a better person. Yes, I have people I love at home. And yes, I have a life to go back to BUT it won't be the same life. I won't be the same me. I can guarantee it.
I left one cold winter morning in January to jump on a plane in Billings, Montana. The anxiety was high. I was really feeling nervous and scared about the upcoming journey. One part of me was so sad to leave my wife, my family, and my dogs. The other part of me was excited for this journey to begin!
I knew that stepping on to that plane was the point of no return. Nothing would ever be the same again. "What was it going to be like?" "Was I going to be in danger?" "Would I ever return?" "Would I see my family ever again?" These were just some of the thoughts that were running through my head.
I stepped onto the plane. I found my seat. I put my headphones on and turned up my music. I closed my eyes and let that plane take off while leaving my old self behind.
My plane arrived in Denver, Colorado about an hour later. It was getting real now. I was one stop away from landing on foreign land. I started worrying about my Spanish and ability to use it to get where I needed. The thoughts were racing through my head. I turned the music up to drown out the thoughts.
Then I heard it. Glorious. Glorious by Macklemore. I listened intently. It hit home. As the song pulses through my veins I know that I can do this. I can get through. I am going to be fine. (The lyrics to the chorus go like this:)
If you want to hear the full song or see the video it is HERE.
Look, I have had enough regrets in my life after 46 years. I already regret things I should have done but didn't for whatever reason. I don't want the rest of my life to be full of regrets for all the things I wanted to do. I don't want to wake up someday down the road wondering "what if" or even worse, "why didn't I do this or that?"
The plane lands in Cancun, Mexico in the afternoon. I step off that plane and keep stepping. I keep walking. Keep moving. Keep on keeping on. I can do this. I got this.
Once I get out of the airport I get a taxi to downtown Cancun. I pass Walmart, McDonald's, and Burger King. It is time to get out of this place. I didn't travel the world to see a touristy are with everything from the United States. This is NOT the experience I want.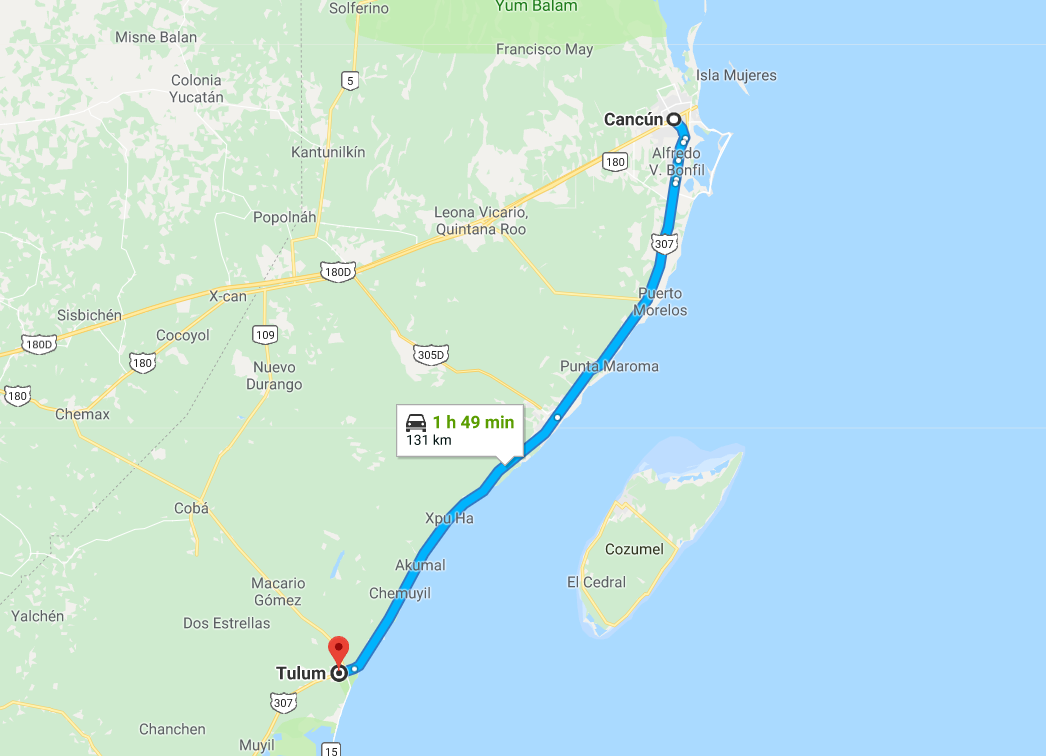 I jumped on the next bus leaving Cancun and headed directly to Tulum for the night. I arrived at night so I found a room across the street from the bus station.
My original intentions were to get up and move right down to Chetumal or into Belize. I decided to slow down a little bit, so I stayed an extra night so I could see more of Tulum.
Tulum was touristy but not near to the scale of Cancun. There were street vendors all over the place and a lot of little tourist trap shops. I ignored this to try to find the real culture behind Tulum. I was never really successful. It really is a tourist town and functions as such.
The following day I walked to the beach. It was an extremely long walk from Tulum to get to the beach. Once I reached the beach, I found that there was a very small public section and although there were not a lot of people on that section when I arrived, that quickly changed. After a few minutes of being on the beach, it got very crowded.
I walked about 3-4 miles down the road further to find that there was not another public section. I was sickened by what I saw. There was resort after resort for miles and miles down the beach. They literally took up every ounce of the beach. The only way to use those sections of the beach was to also use their services. I was not going to pay hundreds of dollars to stay in a resort or spend a ton of money on a meal to eat or drink at a beach club. When I got frustrated and aggravated, I grabbed a taxi and headed back to Tulum.
The sections of beach that I could see were amazingly beautiful but what is the point if you have to pay to use it? I was happy I was able to experience Tulum and the beach. I probably will not stay there again but I valued the experience. I am sure there will be much worse places I will go on my journey.
The food I had while in Tulum was amazing. I ate a gigantic pork burrito from a street vendor that was, to date, the best burrito I have ever eaten. The homemade habanero sauce they served was excellent as well. I was a very full, happy camper that night!
One of my favorite things about Tulum is the great street taco scene. There are a lot of vendors out on the street serving up the best street tacos money can buy. Trust me your money will go far when buying street tacos in Mexico. You can get 3 street tacos for just about one dollar. Like it hot? The homemade sauces will light your mouth on fire for sure!
Margaritas and beer are cheap and superb. After a long day in the sun and some great street food, make sure to hook yourself up to the local baristas and get yourself a cuba libre, margarita, or an ice cold cervesa. Hey, it is Mexico so have a few!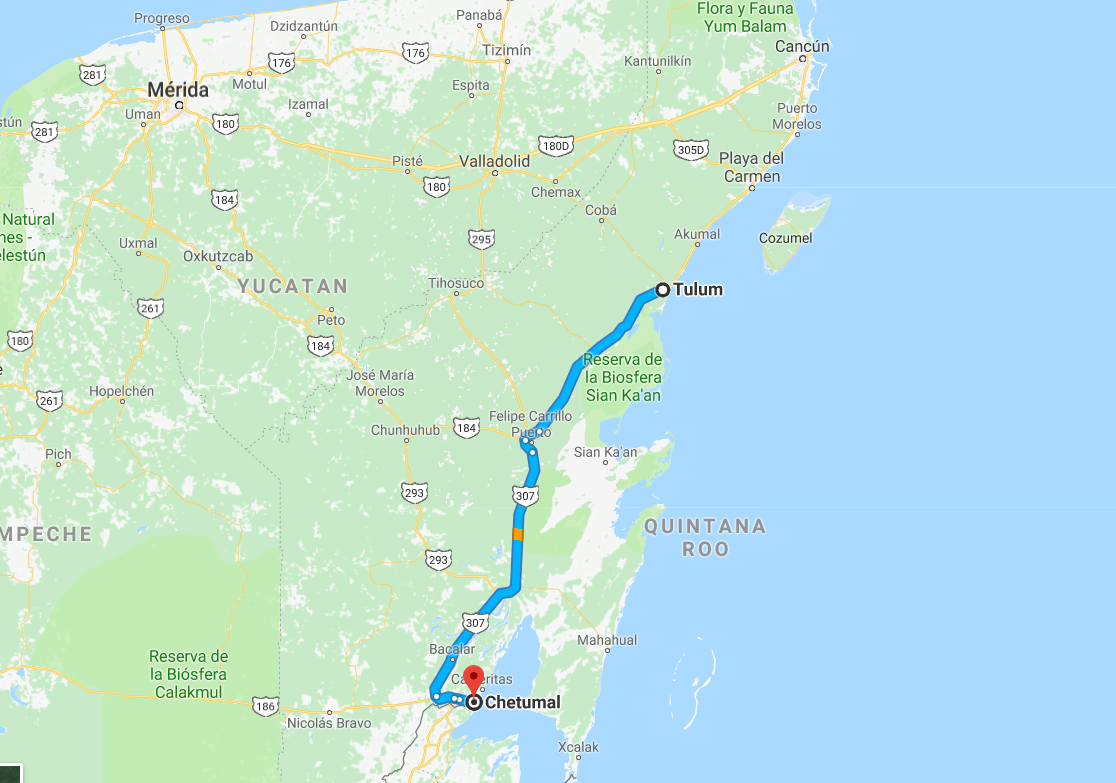 After a couple of days in Tulum it was time to leave. I jumped on a bus and headed to Chetumal, Mexico which is located on the Belize border. Chetumal is a larger city than Tulum and very busy. Once arriving in Chetumal I thought it would be nicer to stay in Calderitas. I passed Walmart, and American fast food restaurants and knew I didn't want to stick around. I found a great place to stay, so I headed to Calderitas which is located just northeast of Chetumal.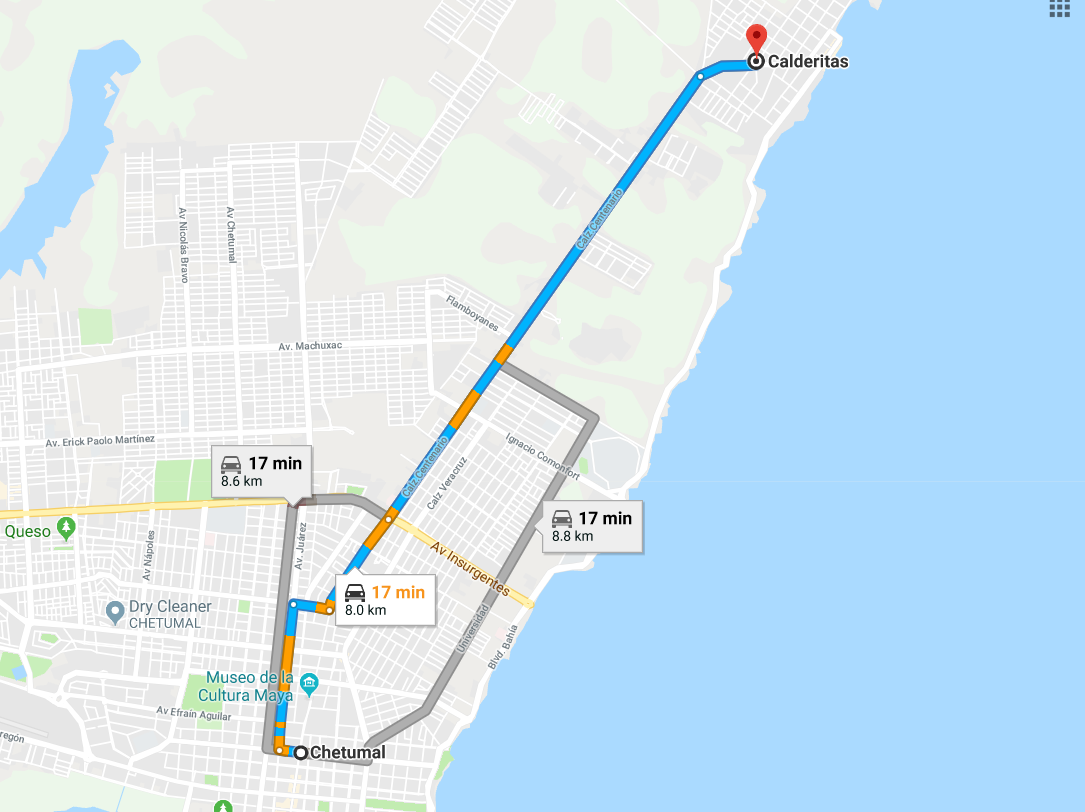 Calderitas, Mexico is a small little town outside of Chetumal. Calderitas is located on Chetumal Bay and isn't touristy. There are multiple restaurants in Calderitas but they are not tourist focused. They are there to serve the local people and they eat at them often.
There is a great public park area that has multiple places to eat, free access to the local beach, a playground for kids, and much more. I found it to be extremely welcoming. The people were very friendly and helpful. The people are proud of their town and they were out working to keep the streets cleaned and weeds cut down.
I was struck by the care to decorate the outside of many of the houses The paint was fresh on many. They had little ornate details that made each house stand out. They often have tall cast rod iron fences and gates that have also been ornately painted.
Overall, Calderitas was my favorite place in Mexico by far. I stayed an extra day because I liked being there. I liked the hostel I stayed at during my stay. Pause Hostel in Calderitas is great. The staff was excellent and the house location was amazing as you can see from the photos below. (All the photos on the dock were from the back of the hostel.)
Find out more about the Pause Hostel, the food in Calderitas, and my visit to the Mayan ruins of Oxtankah in this continuing series.
Until my next post, get out and travel friends!